We are back at Upton Blues Festival 2022
Just confirmed this week thanks to Kate and Mark from Hobsons Brewery, Sloetrain will be performing again on the Campsite stage every evening from Friday to Sunday, so why not drop into the Hobsons brewery bar and marquee and experience the band in full swing before you head over to the big top or main stages.  See below a review of our last adventure at Upton.
"Sloe Train played the 3 days at the Campsite bar venue. I can't believe they were not top of the bill on one of the official stages. Great music from great musicians and friendly off stage too, we campers got the best deal all due to those top entertainers."

Can't wait to see them again.
Ian
Listen to our brand new recordings now on all major Streaming services
2022 – Whats happening ? 
Everyone is aching to get out and experience live music again, and so this year is shaping up to be a top year for the Sloetrain Lads, with a full Summer of festivals booked so the band cant wait to get out on the road and play live. 
Big thanks to everyone who has helped, listened, encouraged and supported us so far. 
Hope to see you - Further On Up the Road! 
Band History 
2021 was also impacted due the pandemic, but the lads kept the hand in jamming at Fat Lills in Oxford, and a sold out gig at the Wiltshire Blues & Soul Club. 
2020 saw only one gig, due to COVID, but it was a big one selling out our "Summer Sessions" gig for Concert at Kings. 
2019 was a busy year on the road & clocking up our 50th live performance. We played a residency at the Upton Blues Festival and debuted a live  Our online streamed gig  with VisualRadioArts clocking up over 3000 views from around the world & we enjoyed that immensely. 
2017/18 saw us in the studio and recording our first album. It's available to stream on all the usual platforms - the link is at the top of this page or you can message us to arrange to get your very own copy. Alternatively you can access the tunes through the "Music" page of this website. 2018 was another busy year with gigs at a number of new venues. 
We are busy recording our second album & this will be all our own original material which is very exciting for us. Hoping to have this released in Summer 2019 - so keep in touch for more news. 
2014 – 2017. Sloe Train first appeared in 2014, but it took us a little while to get our Mojo into fully working order. Our lineup has been settled now since early 2016 & we are building that rapport as a band that only comes with time on the road having played lots of gigs together. Very simply, we love to get out there and put on a show - that's what it's all about & our live shows are getting better & better.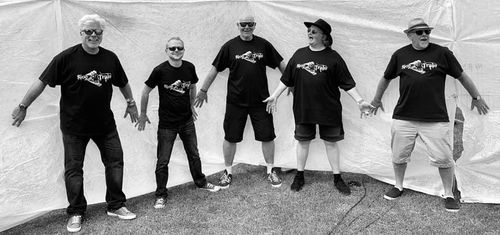 Hi to our visitors!
You are visitor number: 6111